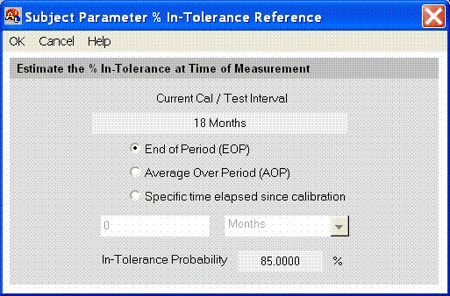 % In-Tolerance Reference Screen Features
Once the reliability behavior for the subject or measuring parameter has been modeled via the Reliability Model Screen, the in-tolerance probability at any time elapsed since measurement can be calculated using the % In-Tolerance Reference screen. This screen is activated by selecting % In-Tolerance on the Main Screen menu or Bias Reference on the Parameter Bias Uncertainty Worksheet menu.

Setting the time of measurement equal to the End-of-Period (EOP) value or entering a specific value for the time elapsed since test or calibration results in a computation of the reliability (in-tolerance probability) for the parameter for the time of interest. Selecting the Average-Over-Period (AOP) option computes an average in-tolerance probability over the test or calibration interval of the parameter.

Clicking the OK on the menu will result in an update of the in-tolerance probability for the parameter on the Main Screen or on the Parameter Bias Uncertainty Worksheet.
Home | Company | Products | Services | Training | Updates | Freeware | Articles | Help | Links
Integrated Sciences Group
14608 Casitas Canyon Road • Bakersfield, CA 93306
Phone 1-661-872-1683 • FAX 1-661-872-3669

Privacy Policy Return Policy Shipping Info
Page Updated February 12, 2015